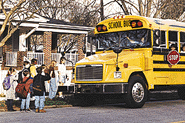 Today's alternative fuels - compressed natural gas, liquid natural gas and liquid propane gas - have the same problems that plague diesel and gasoline... contamination that collects during handling, water that condenses in tanks, and compressors that leak oil into the fuel stream. The precision components necessary for the efficient operation of an alternative fuel system demand superior filtration. The solution - the industry's first and most complete line of alternative fuel filter/coalescers and prefilter/strainers. From pipeline to engine - Parker products provide the ultra-fine filtration required by alternative fuels.

Protecting the fuel injectors and precision components of an alternative fuel system is vital to efficient vehicle operation. Parker is now offering the most complete line of fuel filter/coalescers and prefilter/strainers for on-vehicle applications. These filters ensure removal of damaging aerosol contamination as small as 0.3 to 0.6 microns, and exceeding 95% efficiency, depending on the grade of element specified. Units are available in a range of pressure ratings and are constructed of aluminum, stainless steel or painted steel.

The fuel filter/coalescer elements are produced by a patented process of arranging microglass fibers into a tubular form. During operation, fuel is forced through the coalescing media from the inside of the cartridge through the tubular wall to the outside, where the large droplets fall to the bottom of the housing. Oily water emulsion accumulates until drained while the dirt particles remain trapped on the surface of the fibers.