The Racor RK32313 Fuel Filter / Water Separator is a supplemental primary filtration system for users requiring additional filtration capacity. This Racor d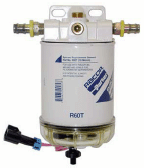 esigned fuel filter is capable of removing free and emulsified water and solids down to 10 micron at 98% efficiency. Mounted on the frame the Racor filter supplies cleaner fuel to the on-engine fuel filter. This extends the life of the on-engine filter.
Dirt and water are practically unavoidable in stored fuel, causing microbial growth, corrosive acids, electrolysis, and rust. These contaminants can plug filters, corrode components, decrease efficient combustion, and can cause engine shutdown or system failure. You can combat these problems by installing a Racor RK32313.
The Racor RK32313 is manufactured to meet the rugged environment of an under vehicle mounting location. A filter guard option part number RK32347 is available to offer additional filter protection.