Designed for behind the cab installation on trucks, the ECO-BC must be mounted

vertical with inside-out flow. Also is used for under hood and engine compartment applications. The rubber dreain vaive in the bottom of the unit allows any ingested water or dirt to drain out.
ECO-BC Benefits:
Spin-On disposable air cleaner features a Slimline design for vertical installations requiring tight or ilimited space restrictions such as behind the truck cab.
Inside-out vertical applications only.
Drain valve in base for water removal.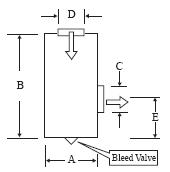 094973001
11
24
7
7
5.6
1120
1450
1600
19.0
8.6
094973002
13.5
24
7
7
5.6
1450
1620
1750
27.0
12.3
094973003
9.75
24
6
6
5.6
875
1100
1250
16.0
7.3
094973004
9.75
18
6
6
9.1
720
900
1060
10.42
4.73
094973005
13.5
15
7
7
9.6
980
1240
1470
15.43
7.00
094973006
11
18
6
6
5.6
810
1020
1200
12.64
5.73
094973007
11
18
7
7
5.6
1010
1270
1490
12.50
5.67