The ECO-LL is similar to the ECO-SM, but is for applications where the customer wants to get the longest life from his air filter. There are also more sizes available. It is also for outside-on air flow ony and has drain holes around the paerimeter.
ECO-LL Benefits:
Spin-On disposable featured in a Long Life high-performance version.
Flow rates between 645 and 1910 CFM
Use when extended maintenance intervals, or severe service, or when element life improvement is desired.
Long Life® paper pack.
Choice of inlet locations.
More media serface area than scheduled maintenance style.
Beaded outlet.
Drain holes for water removal.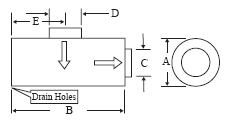 400820001
11
24
7
7
5.5
985
1240
1475
19.0
8.6
400820002
12.0
905
1140
1340
19.0
8.6
400820003
18.5
645
810
950
19.0
8.6
400820004
13.5
24
7
7
5.5
1295
1625
1910
21.5
9.8
400820005
12.0
1170
1475
1735
21.5
9.8
400820006
18.5
845
1060
1250
21.5
9.8
400820007
13.5
18
7
7
5.5
1115
1375
1590
17.0
7.7
400820008
12.5
1100
1340
1545
17.0
7.7
400820009
13.5
15
7
7
5.5
1055
1330
1560
15.1
7.0
400820010
9.5
1135
1435
1690
15.1
7.0
400820011
9.75
24
6
6
5.5
875
1100
1295
13.1
6.0
400820012
12.0
820
1035
1215
13.1
6.0
400820013
18.5
610
770
905
13.1
6.0
400820014
11
18
7
7
5.5
970
1220
1455
13.5
6.2
400820015
12.5
715
905
1075
13.5
6.2
400820016
15
24
8
8
5.5
Non-Standard Filter, Not Stocked
400820017
12.0
400820018
18.5
400820019
11
13
7
7
7.5
710
920
1100
10.24
4.64
400820020
11
15
7
7
7.5
820
1040
1230
11.5
5.22
400820021
11
15
6
7
7.5
Non-Standard Filter, Not Stocked
400820022
11
18
6
7
12.5
650
815
960
12.77
5.79
400820023
11
13
6
7
7.5
720
900
1060
10.23
4.64
400820024
13.5
24
8
10
6.5
Non-Standard Filter, Not Stocked
400820025
15
24
8
10
6.5