The ECO-SE is designed for small engine applications. It also has two unique

features. First, it has a urethane outlet tube which allows the filter to be mounted directly to a metal tube or turbo without an additional rubber connection. Second, the standard unit is a straight-through air filter, air goes in one end and out the other. Intake adapters are available if you would like to remotely locate the intake. The side inlet version offers additional mounting flexibility.
ECO-SE Benefits:
For light and medium duty applications; smaller mobile and stationary engines up to 300 hp.
Easy to service, compact, lightweight, high-efficiency design.
Durable urethane outlet eliminates additional rubber connection.
Straight-thru design improves pressure differential in smaller engine air intakes.
Beaded cavity outlet.
Drain holes for water removal .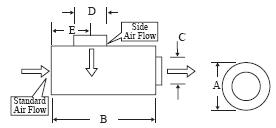 114500001
6.75
13.8
3
NA
NA
240
300
340
5.0
2.3
114500002
7.75
15.8
4
NA
NA
355
440
510
6.5
3.0
114500003
9.75
18.8
5
NA
NA
610
760
890
7.9
3.6
117122000
11
24
7
NA
NA
780
960
1180
12.9
5.9

EC-SE Side Inlet

114880003
9.75
16.9
5
6
4.0
600
760
900
9.0
4.1
114880005
7.75
15.8
4
6
5.5
420
570
800
7.0
3.2