The ECO-SM was designed to give additional mounting fexibility to the O.E.M. customer, while offering a greater value to the fleet that changes filter elements based on a scheduled maintenace program. Due to the various inlet tube locatations, the ECO-SM is ideal for retrofit applications. It is for outside-in air flow only and has drain holes around the perimeter.
ECO-SM Benefits:
Easy upgrade for esisting air cleaners with separate elelments.
Fast and easy wo service with no housing to clean or gaskets to service.
Economical scheduled maintenance design.
choice of threee inlet locations to match new or retrofit applictions.
Beaded outlet.
Drain holes for water removal.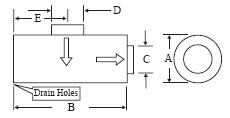 099842001
11
24
7
7
5.5
960
1210
1410
19.0
8.6
099842002
12.0
980
1220
1430
19.0
8.6
099842003
18.5
730
910
1070
19.0
8.6
099842004
13.5
24
7
7
5.5
1100
1380
1620
27.0
12.3
099842005
12.0
1130
1420
1670
27.0
12.3
099842006
18.5
1030
1280
1500
27.0
12.3
099842007
13.5
18
7
7
5.5
1120
1400
1630
24.0
10.9
099842008
12.5
1060
1320
1550
24.0
10.9
099842009
13.5
15
7
7
5.5
1070
1330
1550
22.5
10.0
099842010
9.5
1060
1320
1530
22.5
10.0