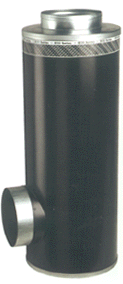 With its revolutionary spin-on design, the completely disposable ECO Series offers faster, safer, more trouble-free service than any other air cleaner today. Built for rugged use, it combines maximum engine protection with fuel-efficient performance and long service life.
The ECO Series provides two significant improvements in engine protection. When the filter loads with dirt and replacement is required, collected dust and debris stay safely contained inside the disposable housing, eliminating the chance of contaminating the air intake system during air filter service. Since the ECO Series uses no clean air gaskets, you never have to worry about gasket leakage. The beaded outlet simply hooks up to the intake with a rubber connection and clamp, creating a leak-tight seal.
Air flow distribution and dust loading are uniform throughout the high-performance filter cone pack, resulting in increased capacity and lower pressure differential for improved horsepower and fuel economy. All ECO Series Spin-On Filters feature water-resistant media for improved performance and optimum life.