The Racor Fuel Filter Funnel (RFF) family is a new heavy-duty, fast-flow, filter-in-a-funnel that separates damaging free water and contaminates from gasoline,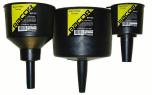 diesel, heating oil, and kerosene. The new RFF family of products are capable of removing free water and solids down to .005 inch and allows you to visually inspect the integrity of your fuel supply as you refuel.
Dirt and water are practically unavoidable in stored fuel, causing microbial growth, corrosive acids, electrolysis, and rust. These contaminants can plug filters, corrode components, decrease efficient combustion, and can cause engine shutdown or system failure. You can combat these problems by refueling with the RFF. Every time you transfer fuel from one container to another you should pass it through an RFF system.
The RFF family is manufactured using industrial grade black electro-conductive polypropylene. Carbon powder is injected into the plastic so that the RFF will conduct static electricity. The grounding capability of the RFF is an important safety feature. Always use proper fuel handling procedures and follow local, state, and federal regulations.

Applications:
For filtering fuels such as gasoline or diesel. Widely used as a means to pre-filter while fueling. The RFF is useful for people who use an internal combustion engine such as a lawn mower, chain saw, weed whacker, snow blower, snow machine, ATV, generator, boat motor, agricultural equipment, race car, or motorcycle.

How They Work:
The Racor RFF family comes with a stainless steel filter built right in. As you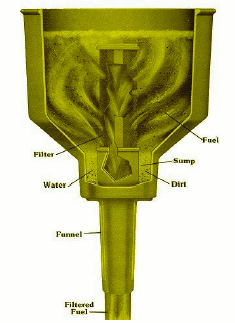 pour your fuel through the funnel observe the sump area of the funnel. If the fuel contains free water it will collect in the sump, since water is heavier than fuel. When you have a substantial amount of water (approximately 1 cup), dispose of it properly and resume fueling. If the RFF filter becomes clogged with solid contaminants, rinse it with clean fuel and then return to fueling.
When properly used, the filter will separate free water from hydrocarbon fuels. Free water is the collection of water molecules in the bottom of gas cans, tanks, or drums formed when fuel is stored for even short periods of time. The free water formation is due to condensation in the air and/or the separation of water molecules from fuel. Water may be present in hydrocarbon fuels as free water or as emulsion, small droplets of water suspended in the fuel. Water may be emulsified in fuel by vibration or by emulsifying additives such as alcohol, or detergents. The RFF filter will not remove emulsified water. Install Racor fuel filter/water separators to remove emulsified water from your engine's fuel system.