Now, engine owners have the opportunity to combine the Racor Full-Flow Liquid Filtration System with a highly efficient, environmentally-safe Bypass Oil Liquid Filtration System.

The Racor Bypass Oil Series removes dirt, varnish, ash, tar, soot and other contaminates that primary, Full-Flow filters cannot eliminate from your engine's oil. The system also removes condensed water which forms damaging acids if left in the oil. Elimination of contaminates extends the life of oil, allows the oil to lubricate more efficiently and extends additive life.

A combination of the Racor Full-Flow Liquid Filtration System and Bypass Liquid Filtration System provides the optimum level of exceptionally clean oil that is free of engine-damaging contamination. Operating confidence, lower maintenance costs and extended engine life are just several of the benefits of the combined system. The Bypass LFS can also be used in combination with standard lube oil filters.

Bypass Oil Series Benefits
More than doubles the miles between oil changes
Saves maintenance costs and downtime
Keeps oil cleaner longer, reducing oil consumption and disposal
Extends engine life and 're-build' intervals
Keeps engines better lubricated which means reduced wear
Reduces thermal degradation (less friction, less heat)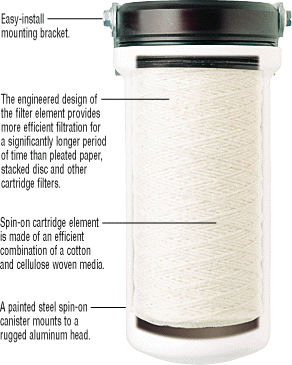 The unique Racor filter element

Two common problems occur with oil filtration.
The first is "loading." As a filter quickly fills up with contaminates, it acts as a barrier to the oil. Once "loading" has occurred, the filter is no longer effective.

The second problem is "channeling." Liquids under pressure seek the path of least resistance. Unless the filtering element is absolutely consistent in density and fabrication, the liquid will find a weak spot, bore through and create a hole, or a "channel," to pass through unfiltered.

The revolutionary Racor filter element solves both problems through a computer directed gradation of weave and tension that filters at 40 micron capability at the outer layer, down to a 1 micron capability at the core.